Litviak's total number of kills
Different numbers appear in different sources. The most reliable source is the 1989 document,
"Chronicle of Combat Victories of Guards Junior Lieutenant Litviak Lydiia Vladimirovna,"
(TsAMO f. 33, op. 686044, d. 4, l. 27) which was prepared as part of the paperwork for Litviak's Hero of the Soviet Union award.
According to the official 1989 Chronicle, Litviak had 12 Individual kills: 1 Ju-87, 3 Ju-88, 7 Me-109, 1 balloon and 3 shared kills: 2 Me-109, 1 FW-190.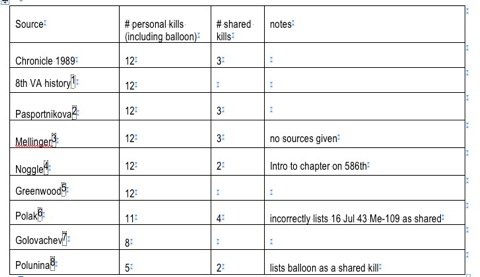 1. B. A. Gubin and V. A. Kiselev,
Vos'maia Vozdushnaia: boevoi put' 8-i vozdushnoi armii
(Moscow: Voenizdat, 1986), 126.
2. Anne Noggle,
A Dance with Death: Soviet Airwomen in World War II
(College Station: Texas A&M University Press, 1994), 197.
3. George Mellinger,
Soviet lend-lease fighter aces of World War 2
, Osprey aircraft of the aces (Oxford: Osprey, 2006), 84.
4. Noggle,
A Dance with Death: Soviet Airwomen in World War II
, 157.
5. James R. Greenwood, "Russia's Female Fighter Pilots,"
Popular Aviation
, Nov/Dec 1967, 12.
6. Tomas Polak and Christopher Shores,
Stalin's Falcons: The aces of the Red Star, a tribute to the notable fighters pilots of the Soviet Air Forces, 1918-1953
(London: Grub Street, 1999), 201-202.
7. P. Golovachev, "My ikh lyubili," in
Geroi i Podvigi
, ed. M. F. Loshchits (Moscow: Voenizdat, 1963).
8. Ekaterina Polunina,
Devchonki, podruzhki, letchitsy
(Moskva: Vestnik Vozdushnogo Flota, 2004), 143.