Litviak at Stalingrad
Information on the temporary assignment of pilots and crews from the 1st Squadron, 586th Fighter Aviation Regiment (APVO) to VVS in September 1942 will be added here.
Pilots: Raisa Beliaeva, Ekaterina Budanova, Klavdiia Blinova, Antonina Lebedeva, Lilia Litviak, Maria Kuznetsova, Klavdiia Nechaeva, Ol'ga Shakhova. A ninth pilot, Anna Demchenko, apparently arrived somewhat later.
Mechanics and armorers included: Aleksandra Eskina, Mariia Konkina, Valentina Krasnoshchekova, Zoia Mal'kova, Sofiia Osipova,
Inna Pleshchivtseva [Pasportnikova
], Nina Shebalina, Valentina Skachkova, Faina Tkachenko
Litviak, Budanova, Kuznetsova at Stalingrad, September 1942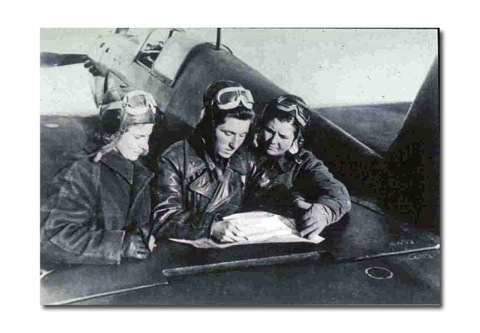 Sources
:
Ovchinnikova, L. P.
Zhenshchiny V Soldatskikh Shineliakh
. Volgograd: Nizhne-Volzhskoe, 1987, pp 1-48.
Pennington, Reina. "Women and the Battle of Stalingrad." In
Russia: War, Peace and Diplomacy - Essays in Honour of John Erickson
, edited by Mark Erickson and Ljubica Erickson, 169-211. London: Weidenfeld & Nicolson, 2005.